Overview
You will build a circuit and conduct a demonstration so your students can observe the relationship between voltage, current and resistance.
Instructions
Introduce the topic
Set up a circuit as shown here: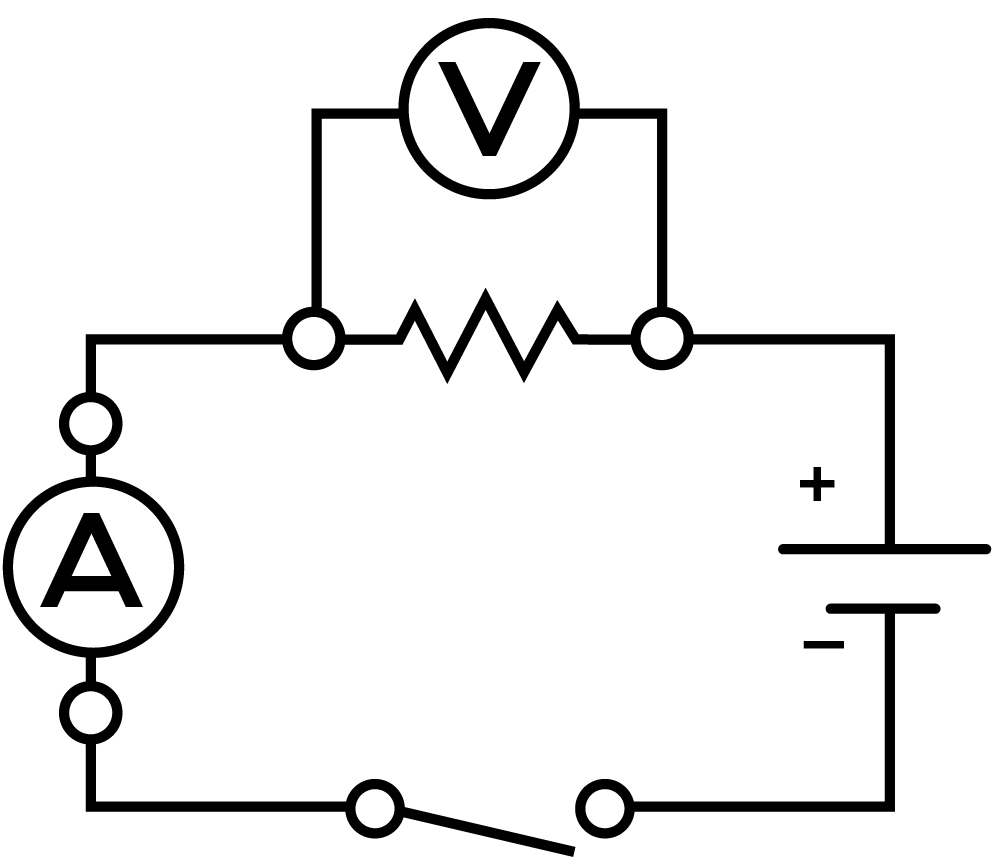 Review the "Exploring Ohm's Law" worksheet with students.
Conduct the demonstration
Using the ammeter and voltmeter, show students how to read the measurement of the circuit's current and voltage. While you go through the measurements, record the data on the board and have your students record the data on their worksheet. Remind them to convert mA to A; 1 amp = 1,000 milliamps.
Add a dry cell in series and repeat the measurements.
If you have more dry cells, add them in series one at a time, and repeat the measurements each time.
Graph the resistance
Using data from the table, have your students create a graph of voltage versus current (V vs. I). Make sure they label all parts of their graph. Explain what a line of best fit is and have your students draw one on their graph.
From the line of best fit, have your students calculate the slope of the line:
Choose two points on the line (point A and point B).
Calculate the difference between the voltages at the two points (the RISE of the slope).
Calculate the difference between the current at the two points (the RUN of the slope).
Divide the RISE by the RUN. This is the slope of the line.
The resistance of a circuit is mathematically shown as an algebraic equation:
Resistance = Voltage / Current.
Interpreting data
Compare the slope of the graphs your students created with the stated resistance of the resistor you used. The numbers should be similar (different numbers are a result of individual differences in choosing a line of best fit).
The relationship between voltage and current is Ohm's Law, and the slope of the line from a graph of the two is the value of the resistance in the circuit. The Ohm's Law equation can be represented in three ways:
R = V / I (resistance = voltage divided by current)
V = I x R (voltage = current x resistance)
I = V / R (current = voltage divided by resistance)